Tags
Related Posts
Share This
THE LORDS OF SALEM by Rob Zombie & B.K. Evenson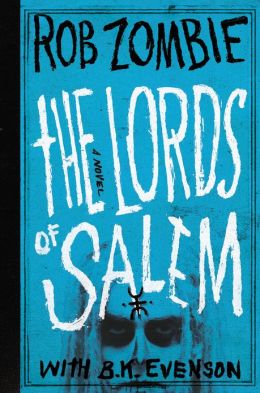 The Lords of Salem
Rob Zombie with B.K. Evenson
Grand Central
Pub date: March 12th, 2013
I've been hearing about this one for a while now. Rob Zombie has a new film coming out called The Lords of Salem and this is the tie-in novel to go along with it. Unlike most tie-in novels, this one is actually written by Rob Zombie with an assist from B.K. Evenson.
The novel opens in 1692 with the citizens of Salem, Massachusetts executing a coven of witches. One of the witches, Margaret Morgan vows revenge before dying bloody.
Heidi Hawthorne is a 37 year old DJ for a Salem, Massachusetts rock station. She is newly sober and dealing with depression. She is the direct descendant of a witch hunter from Salem's notorious past. One day, a record arrives at her station from a band known as The Lords. It comes in a strange wooden box without any liner notes. When the song is played over the air, strange things begin to happen. Heidi begins to have visions and nightmares. Murders begin to occur in the town. Heidi starts to question her sanity and sobriety. Then news that The Lords will be playing a show in Salem arrives.
Movies novelizations are traditionally touch and go affairs. Sometimes they give you a more detailed perspective of the film. Others can either make or break the film. This one falls somewhere in between.
First of all, I think this novel was mostly B.K. Evenson working off Rob Zombie's film script. The opening sequence was inspired. It's bloody, gruesome and visceral, full of powerful imagery. After reading it, one would hope that it sets the tone for the rest of the novel. Well, it does set a tone and it's a confusing one. A huge chunk of the book is descriptions of demons, supernatural events and nightmares that would translate better on screen. At times I found myself losing track of what I was trying to picture. At other times the story itself seemed to not know which direction it was headed. Any fan of Rob Zombie's films will recognize his signature touches. His love of horror films from throughout history continues to be on display here. One would ask though just which film's shoes Zombie is trying to fill. Now, I have not seen the film The Lords of Salem but I have seen clips that lead me to believe much of the confusion I felt reading the book will be clarified on screen. Some people will love this book. Fans of gore, heavy metal and the occult will be thrilled with the contents. I was indifferent.
Dave