Tags
Related Posts
Share This
THE POSTHUMOUS MAN by Jake Hinkson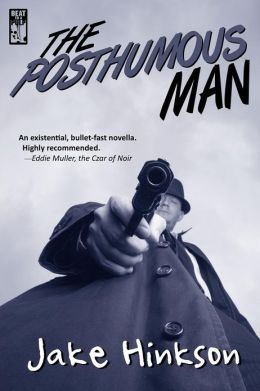 Jake Hinkson
Publisher: Beat to a Pulp
Pub date: Dec 21, 2012
Fallen pastor Elliot Stilling figured the way out of his problems would be death, but when he's resuscitated after a suicide attempt, his quick brush with the afterlife has left him a man without a purpose. As Elliot recovers he develops an infatuation with a nurse, Felicia, another lost soul. Recognizing an opportunity, Felicia is a willing accessory helping him escape from the hospital. Once outside Felicia thrusts Elliot into the middle of a gang of her associates planning an Oxycodone heist at the hospital where she works. Their crazed leader, Stan the Man, sees Elliot as a patsy as their plot begins to get more complicated; Elliot doesn't care about the score, only keeping Felicia safe.
Hinkson expertly dishes out small nuggets of Elliot's past, keeping the accidental crime which ruined his life in the background. Similar to his previous novel, Hell on Church Street, Hinkson explores the depths a man of faith has fallen and the struggle he faces coming to terms with his past transgressions. Elliot is a doomed man searching for purpose, hopefully on the road to some salvation.
Hinkson has crafted an existential heist novella that isn't afraid to
mix theology with the sensibilities of a post-war noir. Much like all of Hinkson's work, The Posthumous Man has an intensely readable, compelling narrative executed with the confidence of a seasoned pro.
Tim Hennessy