Tags
Related Posts
Share This
THE PRESIDENT'S SHADOW by Brad Meltzer reviewed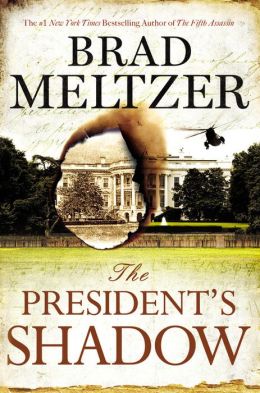 The President's Shadow
Third book in the Culper Ring series
Brad Meltzer
Grand Central Publishing
June 16th, 2015
 THE PRESIDENT'S SHADOW by Brad Meltzer is the final book in the Beecher series. As with all his books, he intertwines history with an action packed plot.  In addition, Meltzer puts in some tidbits of information that have become a part of everyone's daily life. For example, ever wonder why a wedding ring is worn on the ring finger of the left hand, or how a pressed penny becomes a symbol for those in the military.
There is not just one theme to this book.  It powerfully delves into the treatment of those enlisted in the military, the relationship between a father and child, and how ordinary people can make a difference.  This complex novel explores the power of government and the military over an individual's life, the intrigue of having a supposed history nerd, Beecher, able to save the Presidency, and the emotional pull of family relationships.
The book opens with the intense scene of First Lady Shona Wallace finding a severed arm in the White House Garden.  This grim discovery leads the President to ask for Beecher White's assistance to unravel the clues. Readers might wonder why the President would need the help of this nerdy archivist when he has the Secret Service at his disposal. But people should consider the recent mishaps and exploits of that protective service, and the fact that secrecy prevails over Washington DC. Also, Beecher has another role, the main member of the Culper Ring, a 200-year-old secret society founded by George Washington and charged with protecting the Presidency. Through his investigation Beecher will find secrets, including the importance of the number four, as well as what happened to his father.
THE PRESIDENT'S SHADOW mixes history, politics, and drama, creating a fast-paced storyline.  This page-turner includes treachery, political conspiracy, questionable ethics, and secret societies.
Elise Cooper