Tags
Related Posts
Share This
The Punisher and The Foolkiller

I am admittedly a DC comics reader, I always have been and most likely always will prefer DC.
That said, I do really love a lot of other comics.

One of my favorites has always been The Punisher from Marvel. In particular the stuff that has been writeen by Garth Ennis. It's what reading of any kind should be, entertaining and fun. It also happens to be violent as hell and sometimes full goose crazy outlandish.

There's just something satisfying about seeing really bad and evil men ( and women ) get blown away. One of the best trade collections I've read in recent years is THE SLAVERS. Powerfull stuff, and some truly great payback.

If The Punisher is your kind of thing, well, you might need therapy. I probably do….
But you are also in luck, because Marvel is bringing back the Foolkiller. Originall appearing in Man-Thing back in 1974, the last time we saw him was back in the early 90's I believe. Mark Salinger was the latest Foolkiller, though not the first. And now we know he's not the last.
Author Gregg Hurwitz is going to be reviving this highly entertaining character. Hurwitz is a novelist best know for a series of books featuring a US Marshall Deputy named Rackley.
You can find Gregg Here. Gregg is one of my favorite authors and I recommend ever book he's written. So far THE PROGRAM is my favorite.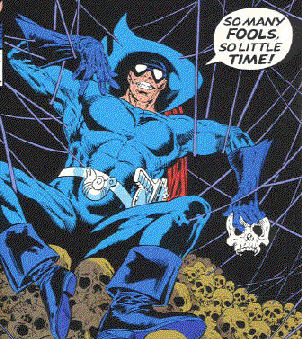 Gregg is a big fan of The Punisher and last summer Gregg happened to be at an event with novelist/comics writer Brad Melzter. They got to talking, and one thing lead to another. Now Gregg is going to be behind what could very well be the debut/revival of 2007 at Marvel.
Gregg has also written the 2007 Wolverine Annual.