Tags
Related Posts
Share This
THE SECRET LIFE OF VIOLET GRANT by Beatriz Williams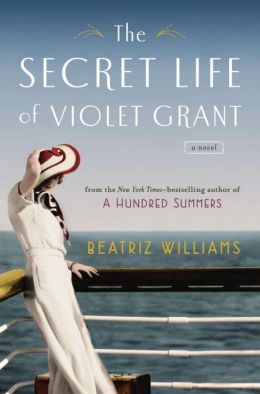 The Secret Life of Violet Grant
Beatriz Williams
May 27, 2014
Putnam Publishers
978-0399162176
The Secret Life of Violet Grant by Beatriz Williams is a riveting tale of two women who lead parallel lives within different eras. It is a historical romantic mystery that is both suspenseful and informative about the role of women during the early 1900s and the early 1960s. The two generations of women, told in an alternating points of view, spans over 50 years.
The plot has a double mystery: who killed Dr. Walter Grant and what happened to his wife Violet? Vivian Schuyler receives a suitcase that belonged to her Aunt Violet over fifty years ago. The blue-blooded Schuyler family has done its best to bury and ignore Violet's disgraceful past since she was determined to pursue a career as a scientist. However, Vivian in trying to get ahead professionally and to make a name for herself is determined to write an article for the newspaper about the passionate, mysterious and scandalous story of her Aunt Violet. The deeper Vivian digs, the more invested she becomes in Violet's story. Rumor has it that Violet murdered her husband and mentor, Dr. Walter Grant, before mysteriously disappearing with her lover on the eve of WWI.
Williams explores the life long issue women have faced over the ages: How to balance a professional life with a family life. An even more important issue explored is how powerful women can be manipulated into a relationship where they are seen solely as objects and sex tools. It would not be a Williams' book if she did not explore a love triangle. In this book there is one involving Violet in 1914 and the other involving Vivian in 1964. Williams intertwines the love triangles with the backdrop of World War I and the feminist movement of the 1960's.
The author is becoming known for her strong character development. In this novel she writes about two women of the Schuyler family whose lives parallel each other with love, relationships, and an independent personality. Violet is a young twenty –two year old that takes a scientific research position with Dr. Walter Grant in 1914. She is ambitious, vulnerable, and falls under the spell of Grant who is a Textbook example of how to gain control over an independent and intelligent woman. Vivian, Violet's niece, is her counterpart in 1964. Besides sharing the same initial she is more like her aunt than she knows. Vivian learns from her research that she must pursue an ambitious future but not ignore the true love she desires. Vivian was also looking to balance her professional life while sustaining a loving relationship. Both these powerful women became entangled in controlling relationships with their professors.
Each male character has different personality traits. Walter is a cruel sex addict who uses his power to manipulate Violet. Lionel, Violet's lover and savior, early in the book has a similar view of women to Walter but changes himself to keep Violet's love. Dr. Paul is Vivian's love interest that has a modern day attitude of being a soul mate and a strong supporter.
With a gripping plot and characters that appear to be talking directly to the reader, The Secret Life of Violet Grant, is a must read. There is something for everyone, including a thrilling mystery with lots of twists and turns, espionage, captivating romantic relationships, betrayal, and closely guarded old family secrets.
Elise Cooper