Tags
Related Posts
Share This
The works of JL Abramo and Robert Olen Butler are featured in this week's giveaway
Hope the government shutdown is not hurting too many readers,   Crimespree magazine,  in conjunction with Friday Reads Facebook page,  is giving away copies of JL Abramo's CHASING CHARLIE CHAN and Robert Olen Butler's THE STAR OF ISTANBUL
CHASING CHARLIE CHAN by JL Abramo
Lenny Archer had more than a fair share of tough times and hard knocks, but he had finally decided to stay in the game rather than cash in his chips.
Then, two late-night intruders at the Private Investigation office of Archer and Pigeon violently take the choice of life over death out of Lenny's hands.
Jimmy Pigeon is determined to discover who killed his friend and partner. He may have to learn what became of the actor who portrayed Charlie Chan in the thirties, and who assassinated a charismatic mobster in the late-forties, before he can identify Archer's killers.
LAPD Lieutenant Ray Boyle is not anxious to get tied up in the Chinese fire drill that is the Archer murder case, but he is far less inclined to get anywhere near the question of where a former Heisman Trophy winning football player was on an infamous night in June 1994.
Pigeon and Boyle become reluctant allies, sharing little in common besides a mutual hope that Major League Baseball can thwart a players' strike and the bad guys learn crime doesn't pay.
J. L. Abramo was born in the seaside paradise of Brooklyn, New York on Raymond Chandler's fifty-ninth birthday. A long-time educator, arts journalist, film and stage actor and theatre director, Abramo is the author of the Jake Diamond private eye mysteries CATCHING WATER IN A NET, CLUTCHING AT STRAWS, COUNTING TO INFINITY, and CHASING CHARLIE CHAN, as well as the stand-alone crime thriller GRAVESEND.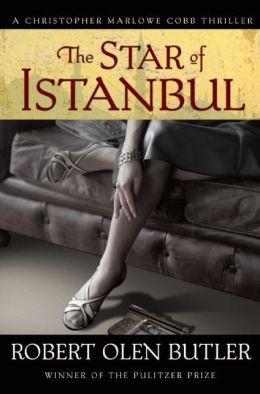 THE STAR OF ISTANBUL by Robert Olen Butler
World War I is in full swing. Germany has allied itself with the Ottoman empire, persuading the caliphs of Turkey to declare a jihad on the British empire, as President Woodrow Wilson hesitates to enter the fray. War correspondant and American spy Christopher Marlowe Cobb has been tasked to follow a man named Brauer, a German intellectual and possible covert SS agent, into perilous waters aboard the ship Lusitania, as the man is believed to hold information vital to the war effort. Aboard the Lusitania on its fateful voyage, Cobb becomes smitten with famed actress Selene Bourgani, who for some reason appears to be working with German Intelligence.
Soon Cobb realizes that this simple actress is anything but, as she harbors secrets that could pour gasoline on the already raging conflict. Following the night of the infamous German U-Boat attack on the Lusitania, Cobb must follow Selene and Brauer into the darkest alleyways of London, then on to the powder keg that is Istanbul. He must use all the cunning he possesses to uncover Selene's true motives, only to realize her hidden agenda could bring down some of the world's most powerful leaders. On his own across the war-torn stages of Europe and the Middle East, Cobb must venture deep behind enemy lines, cut off from his only allies, knowing full well he may not return.
A classic tale of adventure, romance and war, THE STAR OF ISTANBUL firmly cements Robert Olen Butler's place as one of the great historical thriller writers today.
Robert Olen Butler is the Pulitzer Prize-winning author of fourteen novels, six story collections, and a book on the creative process, From Where You Dream. A recipient of both a Guggenheim Fellowship in fiction and a National Endowment for the Arts grant, he also won the Richard and Hinda Rosenthal Foundation Award from the American Academy of Arts and Letters and was a finalist for the PEN/Faulkner Award. He has twice won a National Magazine Award in Fiction and has received two Pushcart Prizes. The Star of Istanbul is his second novel featuring Christopher Marlowe Cobb. He teaches creative writing at Florida State University.
To be entered in the drawing shoot an email over to Jon?@crimespreemag.com (remove the question mark) And put CONTEST in the subject line. Also please put your address in the body of the email
We will pick the winners on October 18th.
When we do the drawing we will be sending an extra something for one lucky winner to be picked from the comments section of the Friday Reads face book page, so after you enter, go leave a comment!