Tags
Related Posts
Share This
Tim Dorsey's COCONUT COWBOY is featured in this week's giveaway
This week's offering finds us heading over to the freaky side of life. Crimespree magazine, in conjunction with Friday Reads Facebook page, is offering you a chance to win a copy of COCONUT COWBOY by Tim Dorsey
COCONUT COWBOY

Channeling his inner Easy Rider, Serge Storms saddles up for his most epic, lethal, and hilarious road trip ever as he revvs off to find the lost American Dream . . . starting in the Florida Panhandle
Obsessed with the iconic Sixties classic Easy Rider, encyclopedic Floridaphile, lovable serial killer, and movie buff extraordinaire Serge A. Storms devises his wildest plan yet: finish the journey begun by his freewheeling heroes, Captain America and Billy, tragically cut short by some shotgun-wielding rednecks.
Setting a course for the Florida panhandle, Captain Serge—with Coleman literally riding shotgun—mounts his classic motorcycle and hits the highway in search of the real America: the apple-pie-eating, freedom-swilling moms and pops of Main Street USA.
But the America he finds in the rural burgs dotting the neck of the peninsula is a little bit different . . . and a whole lot weirder than anything Peter Fonda and Dennis Hopper encountered. In a state where criminal politicians are more common than gators, Serge and Coleman discover one particular speed-trap locale so aggressively inept at corruption that investigators are baffled where to start.
Expect nothing less than madness, mayhem, ingenious homicides, and mind-altering pharmaceuticals when Serge and Coleman's path intersects with the Sunshine State's hyper-dysfunctional rusticity.
Where's Jack Nicholson when you need him?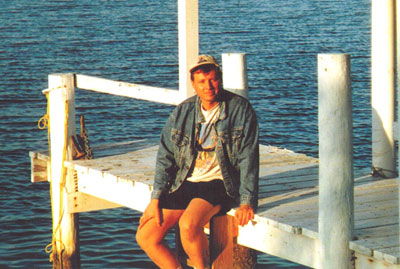 About the Author:
Tim Dorsey was born in Indiana, moved to Florida at the age of 1, and grew up in a small town about an hour north of Miami called Riviera Beach. He graduated from Auburn University in 1983. While at Auburn, he was editor of the student newspaper, The Plainsman.
From 1983 to 1987, he was a police and courts reporter for The Alabama Journal, the now-defunct evening newspaper in Montgomery. He joined The Tampa Tribune in 1987 as a general assignment reporter. He also worked as a political reporter in the Tribune's Tallahassee bureau and a copy desk editor. From 1994 to 1999, he was the Tribune's night metro editor. He left the paper in August 1999 to write full time.
Tim has since published thirteen novels in several languages: Florida Roadkill, Hammerhead Ranch Motel, Orange Crush, Triggerfish Twist, The Stingray Shuffle, Cadillac Beach, Torpedo Juice, The Big Bamboo, Hurricane Punch, Atomic Lobster, Nuclear Jellyfish, Gator A-Go-Go and Electric Barracuda. He lives in Tampa with his family.
To be entered in the drawing shoot an email over to Jon?@crimespreemag.com (remove the question mark) And put CONTEST in the subject line. Also please put your address in the body of the email. And in the spirit of Serge, make your email a little on the strange side.
We will pick the winners on March 11th.