Tags
Related Posts
Share This
TNT's Mob City Shoulda Been a Contender
TNT had Mob City in their corner, but Mob City didn't have TNT in theirs.
TNT had a shot at the title of cable series contender, then blew it when they K.O.'d their new heavyweight drama, Mob City, and with it any crack at a second-season comeback. It is through no fault of creator Frank Darabont (The Shawshank Redemption) and his team of creative talent that Mob City was down for the count in the December ratings – they gave TNT all the punching power it needed to go up against the big boys at FX and AMC, but in the final round it was the network that lacked staying power. Rather the blame falls squarely on the shoulders of programming mismanagers and marketing mishandlers who left the show on the ropes, a serious snafu for a series that chronicled the return home of hardened combat vets from World War Two to police the streets of a postwar L.A. against the backdrop of the West Coast mob's rise to power.
With period dialogue superior to that of AMC's journeyman Mad Men – it was as though Darabont's writers' room studied up on Miller's Crossing's style manual – and the most film noir evocation since HBO's Fallen Angels and NBC's Private Eye, Mob City covered the same territory as the recent Gangster Squad, a decent but rushed 2013 film that relied too heavily on stagy action scenes. Other past efforts at mining this true-crime material were the films L.A. Confidential, Mulholland Falls, and Bugsy, and cable television's Fallen Angels episode "Since I Don't Have You" (adapted from James Ellroy, like Confidential), to name a few, all of which featured either the historic personages LAPD Chief William H. Parker (portrayed by Neal McDonough in Mob City), bantamweight boxer-slash-gangster Mickey Cohen (Jeremy Luke), or both, occasionally tossing Vegas mob mastermind Bugsy Siegel (Saving Private Ryan's Edward Burns) into the mix for good measure.
TNT threw their hat in the ring by reuniting knockout cable television talent from Darabont's other creation, The Walking Dead (Jon Bernthal, whose nose looked like it has seen one too many gloves in the ring, with Jeffrey DeMunn and Andrew Rothenberg as fellow detectives in the LAPD's new "gangster squad"), and from NBC's Heroes (Milo Ventimiglia as Cohen's consigliere Ned Stax and scene-stealing Robert Knepper as enforcer Sid Rothman), to compete with the best, then failed to go the rounds. Hot Fuzz's Simon Pegg set the stage in part one by channeling David Mamet's William H. Macy and exhibiting the kind of versatility that only the best comic actors (Bill Murray, for one) can demonstrate every now and again.
The hard-boiled series worked not only as weekly mob movie and pulp policier, but also classic noir as Det. Joe Teague (Bernthal) risked all for a mysterious nightclub shutterbug (cherchez la femme, Alexa Davalos), his murky motives only slowly coming into fatal focus. Unlike Parker, Siegel, etc., war hero Teague was a fictional LAPD detective whose career dramatically intersected with actual L.A. history of the sort vividly depicted in the 2011 documentary series James Ellroy's L.A.: City of Demons. In Darabont's imagined account, by season's end, viewers spectacularly saw, to quote Lee Ermey's D.I. in Full Metal Jacket, "what one motivated Marine and his rifle can do."
A number of missteps set Mob City up for a fall. For one thing, TNT repackaged their original order of six one-hour episodes and ran them as three two-hour TV movies, emptying a fifty-round drum magazine in a three–week clip. This is hardly the programming paradigm of top ratings-earners like Mad Men or Walking Dead. (Opening credits for Mob City episodes came in at both the start and halfway mark, a tell-tale clue that a pair of one-hour episodes had been slap-dash spliced together.) Upon cancellation, a TNT mouthpiece made the official announcement that "Mob City was created as a three-week television event and we are incredibly proud of the six hours we presented of this remarkable drama." This assertion is patently false. Not only was TNT's re-branding of Mob City from "event series" to miniseries never part of their original stratagem, the show was never created to be anything other than an hour-long weekly drama. Darabont himself verified this when recently he told The Hollywood Reporter, "We were never really geared to be a limited miniseries … It's just the way they're airing it has created this impression that it's a different kind of thing. It's not. We shot these as individual hours just like any hour of television show."
On top of this, running coming attractions for upcoming scenes only minutes away and interspersing them throughout the commercial breaks, unheard of during confident ratings-winners such as Breaking Bad (AMC) and Justified (FX), catered to an attention-deficit mentality. This ad tactic made this "TNT event" feel less of an event and more like a countdown to something that needed to be rushed through. Scheduling the broadcast run so close to Christmas when scant new television airs is yet another gamble that failed to pay off in the ratings game.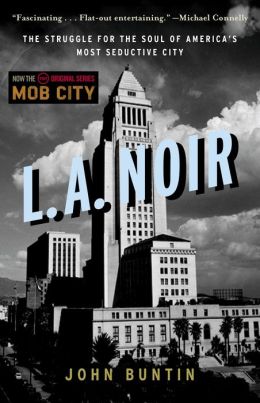 It did not help that the series' title changed three times – first from L.A. Noir (from the title of the show's source material, John Buntin's nonfiction bestsellerL.A. Noir: The Struggle for the Soul of America's Most Seductive City), then to Lost Angels (ducking a legal punch from the makers of a videogame named L.A. Noire, even though Buntin's 2010 book predates their product by at least a year). Finally it was saddled with the thoroughly generic moniker Mob City, too similar-sounding, for one thing, to Showtime's current gangster drama Magic City, and matched and exceeded only by the bluntly titled 1991 film Mobsters in paucity of imagination.
Not all of TNT's fancy footwork in publicizing Mob City fell flat. In what is probably a first, one of their more innovative ideas was leaking a serialized Twitter screenplay (called an "adaptweetion") that included videos, stills, and commentary while allowing fan interaction with the cast and crew. Another was setting up shop in Manhattan with Mickey's Haberdashery, a "pop-up store" offering old-time haircuts, hot shaves, and shoeshines as well as vintage hats, clothes, and accessories (pocket squares, ties, cufflinks, along with giveaway matchboxes and hotel sewing kits). The promoters at TNT deserve points for originality if not success.
Mob City coulda, shoulda, woulda been a contender, had TNT not taken the dive. It was too soon to call the fight, and the station stumbled by not arranging for a season two rematch. With the series flat on the mat, network stumblebums have only themselves to blame for throwing in the towel early. On the other hand, those who count themselves among the fans in the stands will wish that the ratings referees at TNT would have wised up long enough to give Mob City the slow count.
Gilbert Colon
GILBERT COLON has written for publications ranging from Filmfax to Cinema Retro. His Abel Ferrara interview appeared in the anthology book They're Here, and further articles are forthcoming at the entertainment e-zine bare•bones and the author web site Bradley on Film. Read him at Gilbert Streetand send comments togcolon777ATgmail.com.