Tags
Related Posts
Share This
TO DWELL IN DARKNESS by Deborah Crombie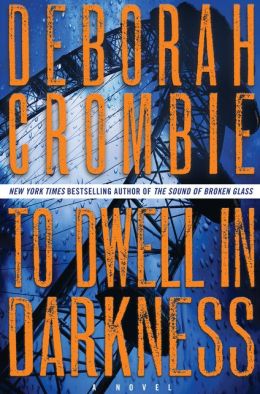 To Dwell In Darkness
Deborah Crombie
William Morrow
Sept 23, 2014
Deborah Crombie celebrates a "sweet sixteen" with her latest book To Dwell In Darkness that has strong characters and an intense plot. Her style is evident as she engages readers in the crime solving storyline while allowing them to get to know the characters with scenes of their home lives that include children, dogs, and a litter of stray kittens.
There are two simultaneous plots that have married detectives Gemma James and Duncan Kincaid immersed in trying to solve. Gemma attempts to build a case against electronics shop clerk Dillon Underwood for kidnapping, raping and murdering 12-year-old Mercy Johnson. This secondary case takes a back seat to the case of Superintendent Duncan Kincaid, recently demoted and transferred to the London borough of Camden from Scotland Yard headquarters. Duncan' new murder investigation team is called to a deadly bombing at historic St. Pancras Station by Detective Sergeant Melody Talbot, who witnesses the explosion. In this seeming act of domestic terrorism, a young man dies while setting off a bomb in the St. Pancras underground, leaving Duncan and his team attempting to discover his identity and motive.  The victim was taking part in an organized protest, yet the other group members swear the young man only meant to set off a smoke bomb. Throughout the story, Crombie has the reader gathering the facts alongside Kincaid as he attempts to find every piece of the puzzle in this unexpected pattern. This includes the disappearance of a mysterious bystander who appears to be Ryan Marsh, an ex-cop gone underground.
A welcome tangent to the dark plots is the dilemma the Kincaid-James household is having over what to do with a cat and four newborn kittens they've found starving and freezing in a locked shed. The scenes involving the dogs and children's reaction towards the kittens are a welcome relief to the intense and serious plot.
Whether discussing the interaction between the dogs and kittens or between the characters themselves a strong thread throughout the book is the relationship amongst them. Readers are able to identify and relate with the characters either in their personal lives, while solving the crime, or understanding the grief the families must go through when a loved one is killed.
To Dwell In Darkness has very riveting storylines. The plots and characters are authentic and believable. Crombie leaves the reader yearning for the next book hoping to get answers including the mystery behind Marsh and the backstory on Duncan's demotion as well as his new partner.
Elise Cooper