Tags
Related Posts
Share This
TOM CLANCY'S FULL FORCE AND EFFECT by Mark Greaney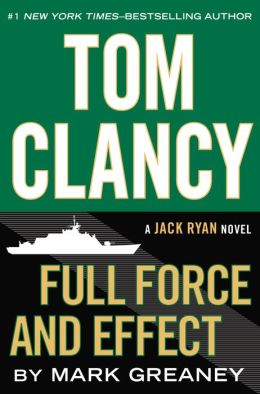 Full Force And Effect
Mark Greaney
Putnam Pub.
Dec 2nd, 2014
Tom Clancy's Full Force And Effect by Mark Greaney keeps the Jack Ryan legacy alive. The characters of the Campus organization are still fighting evil, evoking the Clancy style. The classic trademarks and cast include, Jack Ryan Jr., his cousin Dom, John Clark, and Adam Yao, who are alive and well within the plot twists, a great espionage story, and well-written action scenes. There are some technical details but not quite so many as to overburden the plot.
The storyline includes an attempted assassination of US President Jack Ryan, North Korea attempting to buy ICBM missiles to enhance their nuclear capabilities, rogue FBI agents working with the Koreans, and the murder of a CIA officer in Vietnam. Greaney intertwines these brilliantly and is able to mimic many of the real life situations of this region. Especially when President Ryan challenges North Korea's effort to extract trillions of dollars worth of rare minerals that would allow them to buy nuclear weapons and influence. Readers can connect the fictional Choi Ji-Hoon with the real-life ruler, Kim Jong-Un, including the actions taken against his uncle. The storyline is insightful and relevant considering North Korea was in the headlines with the hacking of the Sony Corporation. Putnam and Greaney might be wary or they too might end up in the crosshairs.
Full Force And Effect shows that Greaney can carry the torch of Clancy's books. Readers should be happy that he was contracted to continue writing this marvelous series, especially since Jack Ryan Sr. and his supporting cast are allowed to continue to battle the evil powers that exist around the world.
Elise Cooper