Tags
Related Posts
Share This
Tour Dates for Stuart Neville's U.S. Tour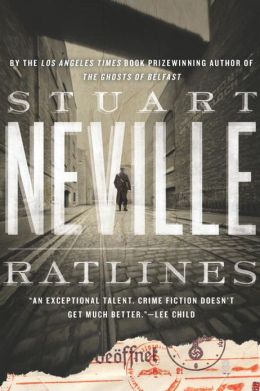 Tomorrow is the beginning of Irish author Stuart Neville's U.S. tour. Stuart is promoting RATLINES.
Ireland 1963. As the Irish people prepare to welcome President John F. Kennedy to the land of his ancestors, a German national is murdered in a seaside guesthouse. Lieutenant Albert Ryan, Directorate of Intelligence, is ordered to investigate. The German is the third foreigner to die within a few days, and Minister for Justice Charles Haughey wants the killing to end lest a shameful secret be exposed: the dead men were all Nazis granted asylum by the Irish government in the years following World War II.
A note from the killers is found on the dead German's corpse, addressed to Colonel Otto Skorzeny, Hitler's favorite commando, once called the most dangerous man in Europe. The note simply says: "We are coming for you."
As Albert Ryan digs deeper into the case he discovers a network of former Nazis and collaborators, all presided over by Skorzeny from his country estate outside Dublin. When Ryan closes in on the killers, his loyalty is torn between country and conscience. Why must he protect the very people he fought against twenty years before? Ryan learns that Skorzeny might be a dangerous ally, but he is a deadly enemy.
Thursday January 3rd: San Francisco CA Litquake
7:00pm: Tosca Café, 242 Columbus Avenue, San Francisco, CA 94133 +14159869651
Cara Black interviews Stuart Neville during LitQuake; hosted by Green Apple Books
Friday January 4th: Seattle WA, Seattle Mystery Bookshop and Third Place Books
12:00pm: signing at Seattle Mystery Bookshop, 117 Cherry Street, Seattle, WA 98104
6:30pm: Reading at Third Place Books, 6504 20th Avenue Northeast Seattle, WA 98115
Saturday January 5th: Denver CO, The Tattered Cover
7:30pm: Reading at The Tattered Cover, 2526 East Colfax Avenue, Denver, CO 80206
Sunday January 6th: Milwaukee WI, Boswell Book Company
3:00pm: Reading at Boswell Book Company, 2559 North Downer Avenue, Milwaukee, WI
Monday January 7th: Minneapolis MN, Once Upon a Crime
7:00pm: Reading at Once Upon a Crime, 604 West 26th Street, Minneapolis, MN
Tuesday January 8th: Houston TX, Murder by the Book
6:30pm: Reading at Murder by the Book, 2342 Bissonnet Street, Houston, TX
Wednesday January 9th: Raleigh NC, Quail Ridge Books & Music
7:30pm: Reading at Quail Ridge Books & Music, 3522 Wade Avenue, Raleigh, NC 27607
Stuart is featured on the cover of issue 49 of Crimepree, you can read an excerpt of John Connolly's interview with Stuart here.