Tags
Related Posts
Share This
TROUBLED DAUGHTERS, TWISTED WIVES is featured in this week's giveaway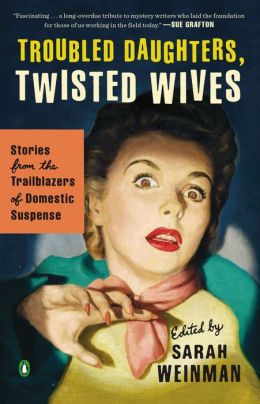 Hope everyone is having a great week.  Crimespree magazine,  in conjunction with Friday Reads Facebook page,  is giving away copies of TROUBLED DAUGHTERS, TWISTED WIVES edited by Sarah Weinman
Fourteen chilling tales from the pioneering women who created the domestic suspense genre
Murderous wives, deranged husbands, deceitful children, and vengeful friends. Few know these characters—and their creators—better than Sarah Weinman. One of today's preeminent authorities on crime fiction, Weinman asks: Where would bestselling authors like Gillian Flynn, Sue Grafton, or Tana French be without the women writers who came before them?
In Troubled Daughters, Twisted Wives, Weinman brings together fourteen hair-raising tales by women who—from the 1940s through the mid-1970s—took a scalpel to contemporary society and sliced away to reveal its dark essence. Lovers of crime fiction from any era will welcome this deliciously dark tribute to a largely forgotten generation of women writers.
To be entered in the drawing shoot an email over to Jon?@crimespreemag.com (remove the question mark) And put CONTEST in the subject line. Also please put your address in the body of the email
We will pick the winners on September 6th.
When we do the drawing we will be sending an extra something for one lucky winner to be picked from the comments section of the Friday Reads face book page, so after you enter, go leave a comment!