Tags
Related Posts
Share This
Victor Gischler's SHOTGUN OPERA on the move towards Hollywood.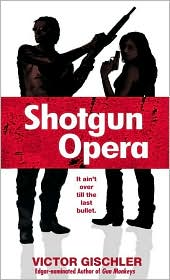 Time now for the latest installment of THE GISCH takes Hollywood.
Victor Gischler is teaming up with Adam Egypt Mortimer to develop SHOTGUN OPERA for the silver screen. Now I know all about Victor, but Adam is an unknown to me so I decided to get in touch and see what he had to say about SO, The Gisch and life in general.
How did you and Victor meet?
Adam: My introduction to Victor was Go-Go Girls of The Apocalypse. I saw it on the shelf at my favorite LA bookstore (Skylight books in Los Los Feliz). I actually saw it there on the shelf many times, for several months, and i would pick it up, read the back, laugh about the title, and then put it back. It was kind of like flirting with a girl you sort of want to date but you kind of think she might be a psychopath with extreme daddy issues. Of course once I finally got up the courage to read the damn thing I was like FUCK YEAH. So I sent victor an email — I love our modern age where you can instantly stalk anyone — and told him I dug his point of view, and could we do something together. It turned out that someone else already had the rights to Go-Go Girls (dammit) So i then went ahead and read just about EVERY book he's written.
I did finally meet Victor at ComicCon last year — my favorite time of year — where we drank together in multiple hotel bars, talking about zombies.


What drew you to SG?
A: One of the great things about his point of view is that he always takes these hard-hitting genre universes and plugs in characters who are totally out of their element in the two-fisted hot lead world of action. He gets great comedic moments out of this juxtaposition. All of his books are great for film adaptation because they are built around action occurring in the present (by that i mean not the setting but that they are not a lattice work of flashback and psychology). He's got a "what happens next" approach with is key to film adaptation.
In Shotgun Opera, he not only gives us the archetypical fish-out-of-water Gisch character — the anxious, naive 20 year old kid Andrew who becomes the center of an international assassination ring — he also gives us larger than life, hard boiled characters who are trying to step OUT of this world. Mike Foley is a guy who was like a young Lee Marvin character in the 70s, and retired 40 years ago, seeking a quiet life. Nikki Enders is an Aeon Flux / La Femme Nikita / Angelina Jolie type of character who suddenly at the age of 35 slams up against a nervous breakdown and decides to call it quits. Of course, no one can quit, everyone is forced to kill one another, and so you get this incredible action-gumbo of reluctant ultra-assassins and freaked-out kids all shooting the hell out of each other while trying to figure out where their lives went wrong. It's something i feel we can all identify with.
That theme, those two characters who are both among the top pro killers, but who both want to get out — and who are now moving ever closer to a final confrontation — that's a FUCK YEAH type of story.

(Left: Adam as captured by John Vernon)
You are handing the screenwriting, where is that right now?
A: The plan was for me to write the script — and I just sent him the revised draft — and then we'd brainstorm some revision ideas and then get it out there. I've had an amazing time adapting it, and running a little farther with some of these themes I'm talking about. I've tried to make Nikki Enders even more iconic as the kind of character you'd see in an awesome comic book. She's like Catwoman, or Elektra. And then I've had lots of fun giving her one of the great cinematic nervous breakdowns, including a fullscale hallucinatory confrontation with her dead father and what i think will be among the most memorable one-woman-kills-7-hitmen scenes in recent action cinema history.
I've found our working relationship to be very trusting and very relaxed. Victor seems to be a fan of my ideas and my approach to things, and clearly I'm a fan of his. When I've changed things, I've only amplified his characters or ideas, making them more insane, more visual, more cinematic, and he's been psyched about it. When I've dropped the ball in certain areas, we've both recognized where the weaknesses are and we both understand that's just part of the process of getting the thing right.

What is your background?
A: I grew up in Boston. then i went to New York and studied English literature at Columbia university. I spent a lot of time there reading postmodernist theory and then i spent a lot of time after graduating forgetting all of it so I could tell stories. I played experimental music and got involved with art. I started shooting weird New York bands and making avant guard film. I created a cartoon show for MTV, that was my first professional deal. I sold a pitch to a big Hollywood company. I moved to LA 3 years ago and immediately started being able to work as a fulltime filmmaker — someone at warner brothers records saw one of my weird avant guard music videos and hired me to do pop/rock stuff. I made a bunch of horror shorts for Fox. Now i have this body of work that I'm proud of and so I'm aloud to go to people's offices and scream at them for 20 minutes about what movie I'd like to make. I just got hired to write and direct a horror movie set in the drug cartel world of Mexico.
Are you a big reader? If so, what are some of your favs?
A: I love reading. I love books. They are the greatest technology our species has yet to come up with.
I grew up on comic books, michael moorcock, stephen king, clive barker, hunter thompson, thomas Pynchon, william gibson. In that order. My favorite writers are William Burroughs, Brett Easton Ellis, the comic writer Grant Morrison, Dennis Cooper. I love Laura Albert and I don't care that JT Leroy wasn't a real person. I dig Jonathan Lethem — Motherless Brooklyn is an incredible reworking of crime fiction. I can't wait to start Chronic City. Colson Whitehead's The Intuitionist is another genius noir re-mix. I love it when creators use genre elements and take them into weird new directions — novelists have a better shot at doing this than filmmakers — though the filmmakers that succeed are my faves (ie, David Lynch, David Cronenberg, Takashi Miike, Park Chan Wook) Haruki Murakami is another genius at this approach, Hard Boiled Wonderland is a beautiful mind blower.
I am pretty new to the crime genre such as it is, and i'm diving into it further and further. I always loved The Big Sleep, both the book and the movie; I love Cornell Woolrich because his stories are not only so gripping but also so lonely and desolate. I guess I'm attracted to that feeling. I just read The Killer Inside Me which was very inspiring, I'm going to check out more of his work.
The work of comic artist/writer Jim Steranko is very important to me, when you look at what he did with Nick Fury back in like 1966 you can just see the birth of a new modernist noir style of visual storytelling that is still exciting 50+ years later. Frank Miller's Electra Assassin might be one of my biggest sources of printed-paper inspiration, actually.

Thanks for your time, please us updated on SO!
A: Man, this has been super fun, thanks for taking an interest in our project!