Tags
Related Posts
Share This
REVIEW OF W.E.B. Griffin's CURTAIN OF DEATH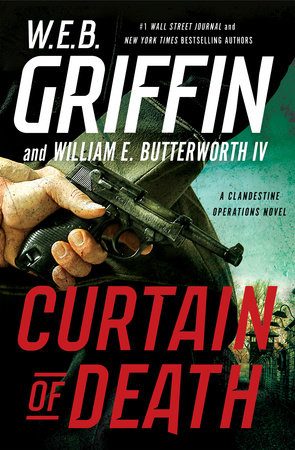 CURTAIN OF DEATH
Book three in the Clandestine Operations series
W.E.B. Griffin and William Butterworth IV
G. P. Putnam
Dec. 27th 2016
CURTAIN OF DEATH by W.E.B. Griffin and William Butterworth IV present a fact filled novel about the early days of what will become the CIA. Even though the period between WWII and the Cold War is intense in itself these authors were able to make the plot even more riveting.
The story reflects Griffin's own experiences during the mid 1940s in war torn Germany. It becomes obvious that the clandestine agents must not only deal with the Nazis trying to escape to Latin America, but an entirely different kind of war. The enemy has changed, the rules have changed; and the stakes have never been higher.
The time is January 1946, the setting Munich Germany, and the protagonists are the men and women fighting a covert war. The plot begins with two WACs and intelligence analysts kidnapped by four KGB agents. Unfortunately for them one of the women, Claudette Colbert, hid a pistol in her bra, and shoots three of her assailants, wounding a fourth. Readers take the journey with the DCI-Europe unit as they navigate through the conflicts within the different US agencies and with the two logistical enemies, Russia and the Nazis.
CURTAIN OF DEATH is a novel that mixes intrigue and diplomacy within a suspenseful and enthralling story. An added bonus is the sarcasm and humor sprinkled throughout the scenes.
Elise Cooper