Tags
Related Posts
Share This
Weekly Home Entertainment release recap for May 11th, 2010.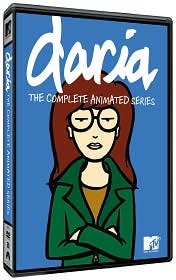 DARIA: The Complete Animated Series (1997-2001) $72.99 Extras: Both movies, cast & crew interviews, the pilot "Sealed With a Kick," Daria Day intros, more. (Paramount).
The people of Lawndale just don't get Daria Morgendorffer. She's cool with that.See, Daria was born alienated, and now she's just trying to make it through highschool with as little human contact as possible. Popularity, friends, activities…whatever. Daria lacks enthusiasm, but she makes up for it with sarcasm. Includes all five seasons plus both movies!
And this is my release of the week! A truly awesome show that helped me waste many an hour.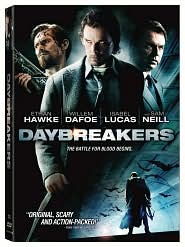 DAYBREAKERS (2010) Ethan Hawke, Willem Dafoe, Claudia Karvan, Michael Dorman, Sam Neill, Vince Colosimo, Isabel Lucas. DVD: $29.95 , Blu-ray: $39.99. Extras: Making of DAYBREAKERS Featurette, Commentary with Co- Directors Peter and Michael Spierig and Creature Designer Steve Boyle, Trailer, Poster Art Gallery (Lionsgate)
Two-time Academy Award® nominee Ethan Hawke plays Edward Dalton, a researcher in the year 2019, when an unknown plague has transformed the world's population into vampires. As the human population nears extinction, vampires must capture and farm every remaining human, or find a blood substitute before time runs out. However, a covert group of vampires makes a remarkable discovery, one which has the power to save the human race.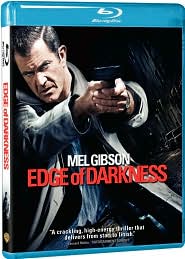 EDGE OF DARKNESS (2009) Mel Gibson, Ray Winstone, Danny Huston, Shawn Roberts, Bojana Novakovic, Frank Grillo, Gbenga Akinnagbe. DVD: $28.98 , Blu-ray/DVD Combo: $35.99 Extras: Additional/alternate scenes. Blu-ray: "The Past and Present of Edge of Darkness," with nine "Focus Point" video pods: "Scoring the Film," "Revisiting the Edge of Darkness Mini-series," "Edge of Your Seat," "Making a Ghost Character Real," "Adapting the Edge of Darkness Mini-series," "Director Profile Martin Campbell," "Boston as a Character," "Mel's Back" and "Craven's War of Attrition"; digital copy. (Warner).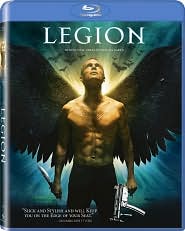 LEGION (2010) Paul Bettany, Dennis Quaid, Tyrese Gibson, Doug Jones, Jon Tenney, Charles S. Dutton, Lucas Black, Kate Walsh. DVD: $28.95 , Blu-ray: $34.95 Extras: "Creating the Apocalypse," "Humanity's Last Line of Defense," "From Pixels to Picture. Also available on Blu-ray Disc, which adds "Bringing Angels To Earth: Picture-in-Picture," movieIQ+sync, BD-Live, digital copy. (Sony).
At a remote desert truck stop, the fate of the world will be decided. Evil's armies are amassing. Armed and united by the Archangel Michael (Paul Bettany), a group of strangers become unwitting soldiers on the frontlines of the Apocalypse. Their mission: protect a waitress and her sacred unborn child from the relentless, bloody siege of the demonic legion. Also starring Dennis Quaid (G.I. JOE: THE RISE OF THE COBRA, VANTAGE POINT), Tyrese Gibson (TRANSFORMERS) and Lucas Black (JARHEAD).