Tags
Related Posts
Share This
Weekly Home Entertainment release recap for May 18th, 2010.
21 JUMP STREET: Season Two (1987-88) Johnny Depp, Steven Williams, Peter DeLuise, Holly Robinson Peete, Dustin Nguyen. Four-disc set with 22 episodes, $14.98. (Mill Creek Entertainment).
The undercover action continues with the highly successful second season of the landmark television program co-created by Patrick Hasburgh and Stephen J. Cannell (THE A-TEAM, THE ROCKFORD FILES). Johnny Depp leads the Jump Street gang as they continue to tackle tough subject matter and social issues faced by the impressionable youth they're trying to protect. Each episode resolves with moral lessons being learned and justice being served. 21 JUMP STREET will forever be regarded as one of the coolest cop shows in TV history! The complete second season includes all 22 action-packed episodes!

The hit television show which made Johnny Depp a teen heartthrob, really hit its stride during the critically acclaimed second season as the Jump Street gang goes back to school to sniff out high school criminals and troublemakers. Known for successfully tackling tough subject matter while developing compelling characters, these tough but compassionate young cops must face some of their own demons in order to be role models to the impressionable youth they've sworn to protect.
THE GREATEST AMERICAN HERO: The Complete First season William Katt, Connie Sellecca, Robert Culp Extras: Interview with producer Stephen Cannell $14.98 (Mill Creek Entertainment)
This critically acclaimed series, which is a perfect blend of superhero action and sharp-witted comedy, centers on a normal high school teacher with a super-powered pajama suit he doesn't know how to operate! With the help of his friends and through some trial and error, his mission is to travel around the world to fight crime and save the day!
Ralph Hinkley (William Katt) is an ordinary school teacher who becomes extraordinary after an encounter with extraterrestrials leaves him with apower suit that transforms him into a superhero! But when he loses the suit's instruction manual, Ralph must learn by trial and error to control the capabilities and powers of his red magic outfit to fight the battle against injustice and crime.
With the help of his attorney girlfriend Pam Davidson (Connie Sellecca) and FBI agent Bill Maxwell (Robert Culp), the world's most unlikely flying crime fighter gets tangled in one outrageous adventure after another in this quirky scifi/action/comedy
series.
HUNTER: The complete Second Season (1985-86) Fred Dryer, Stepfanie Kramer, James Whitmore, jr., Bruce Davison, $14.98 (Mill Creek Entertainment)
Get ready to reload as L.A. homicide detective Rick Hunter (Fred Dryer) and his partner Dee Dee McCall (Stepfanie Kramer) are back on the job, investigating crimes and brandishing their own sense of justice on those that commit them. In this explosive second season, Hunter and McCall take on deadly heists, killer porn stars, gangland murders, international terrorists, punk rockers and more.

Throughout all their action-packed exploits, this formidable duo remain united by a common goal: upholding law and order.

Created by THE A-TEAM creator Frank Lupo and produced by the legendary Stephen J. Cannell, HUNTER combines hard-hitting action with mispaired-buddy comedy through all 23 hard-hitting season-two episodes. This explosive second season also features such guest stars as Robert Englund, Jane Russell, Robert Davi, Stuart Whitman, Kay Lenz, Sheryl Lee Ralph, John Matuszak and Isaac Hayes. HUNTER was one of the most popular television shows of the 1980s and one of the most successful cop shows of all time – enjoying a successful 7-season run on NBC.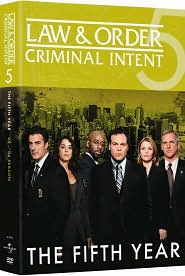 LAW & ORDER: Criminal Intent — The Fifth Year (2005-06) Five-disc set with 22 episodes, $59.98. (Universal).
New York's war on crime enters an unprecedented phase of tension and conflict in the fifth season of Law & Order: Criminal Intent. Legendary producer Dick Wolf presides over 22 episodes of compelling, ripped-from-the-headlines cases as the Major Case Squad takes on some of its most difficult scenarios to date—from brainwashing and foul play to bondage and bizarre ritualistic killings. Chris Noth joins cast members Annabella Sciorra, Vincent D'Onofrio, Kathryn Erbe, Jamey Sheridan and Courtney B. Vance as well as guest stars Whoopi Goldberg, Michael Gladis, Leslie Hendrix and Malcolm McDowell for each riveting moment of suspenseful drama. Discover why this unique series in the critically acclaimed Law & Order franchise stays with viewers like no other show ever has long after the final clue is revealed.

THE NEW DAUGHTER (2009) Kevin Costner, Ivan Baquero, Samantha Mathis, Gattlin Griffith, Erik Palladino, Noah Taylor. (Anchor Bay).
Based on a short story by John Connolly, this thriller is about a newly divorced father who moves into a rural South Carolina home with his adolescent daughter and young son, where the girl seemingly becomes possessed by an evil entity.