Tags
Related Posts
Share This
Whitey Bulger-America's Most Wanted Gangster and the Manhunt That Brought Him To Justice by Kevin Cullen and Shelley Murphy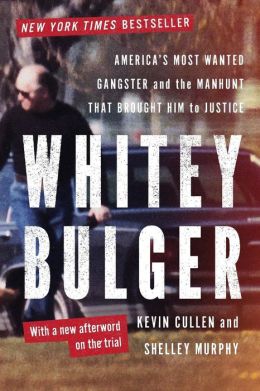 WHITEY BULGER
W.W.  Norton
Pub date: October 7th, 2013
In June 2011, I was having a conversation with a co-worker about the fate of Whitey Bulger. I took the position that he was dead. I figured somebody found him, dropped him and made the body disappear. My co-worker firmly believed he was still alive. I figured if we found Bin Laden, we should have been able to locate an Irish Mobster from South Boston. Anyway literally a week later you could imagine my surprise that Bulger had been captured in California after 16 years on the run. I was blown away. I couldn't fathom anything else but the motherfucker being dead. Then I thought to myself that the man will be going to trial that the secrets will come out, people will go down and it would be a spectacle.
Whitey Bulger is written by Kevin Cullen and Shelley Murphy both of whom are writers for The Boston Globe and had been in the trenches dealing with Bulger for many years. They had a bird's eye view of the havoc Bulger caused during his reign at the top of the criminal mountain. People outside of Boston might have a hard time grasping just what went on here during the 60s, 70s, 80s, and early 90s. It's because what happened here truly couldn't have happened anywhere else but Boston. Boston is America but it's an alternate America is there ever was one. I'm beginning to digress. This is a book review and not my personal commentary on who and what Boston is.
Whitey Bulger is unique as far as criminals go. He was raised in the projects of South Boston. Started robbing banks and wound up doing 9 years in a number of federal prisons including Alcatraz. With the help of his younger brother Billy, who was beginning his own rise to become one of the most powerful politicians in Massachusetts history, gained early release. He returned to a Boston drastically different than the one he had left. The criminal underworld was in a vacuum. Throughout the 60s, criminals spent all their time killing each other. There were only a few guys left outside of the Italians who had any muscle. The city was essentially open territory and it was ripe for a guy of Whitey's intelligence to carve out a piece for himself. By the mid-70s Whitey struck up a relationship with a FBI agent by the name of John Connolly. That's when the story gets both murky and interesting at the same time. There are countless other details to this story that have to be read to be believed. The scope is just incredible.
So I've made it a point to read every last thing I can get my hands on about the history of Boston crime. Some for the books were pure sensationalist bullshit written by fringe players in the Boston underworld who only wanted to cash in. Others like Hitman by John Martorano or Brutal by Kevin Weeks are perfect examples written by people who were highly involved in Whitey's world. Both of those guys either killed with Whitey or dug holes for the man. Now in the last year 2 biographies of Whitey have come out. This one and one called Whitey by Dick Lehr and Gerald O'Neil both of whom also wrote for the Boston Globe. I reviewed that one earlier this year. This one is the better of the 2. It's compulsively readable and the recently released trade paperback version contains a new afterword covering the trial. So as of this point, this is the book on Whitey to be read. That is at least until he decides to sell his story from his jail cell. I really loved this book. There are so many fascinating details, there was no way I could possibly even list a fraction of them in this review. They need to be read as a whole.