Tags
Related Posts
Share This
William Kent Krueger tour dates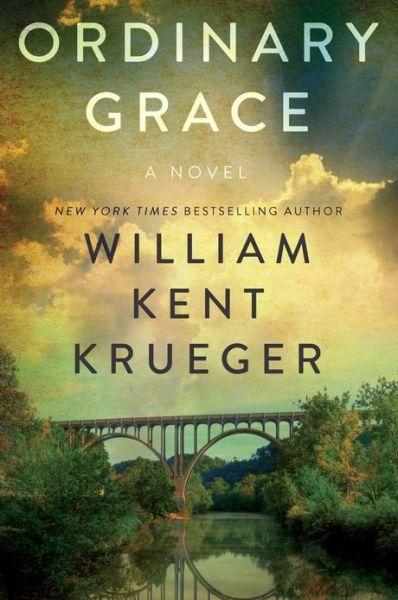 March 26th sees the release of ORDINARY GRACE, William Kent Krueger's 14th novel. OG may well be Kent's most personal novel to date. The story has been bouncing around Kent's head for over five years. When the time was right, OG went from an idea to a full fledged book.
"That was it. That was all of it. A grace so ordinary there was no reason at all to remember it. Yet I have never across the forty years since it was spoken forgotten a single word."
New Bremen, Minnesota, 1961. The Twins were playing their debut season, ice-cold root beers were selling out at the soda counter of Halderson's Drugstore, and Hot Stuff comic books were a mainstay on every barbershop magazine rack. It was a time of innocence and hope for a country with a new, young president. But for thirteen-year-old Frank Drum it was a grim summer in which death visited frequently and assumed many forms. Accident. Nature. Suicide. Murder.
Frank begins the season preoccupied with the concerns of any teenage boy, but when tragedy unexpectedly strikes his family— which includes his Methodist minister father; his passionate, artistic mother; Juilliard-bound older sister; and wise-beyond-his-years kid brother— he finds himself thrust into an adult world full of secrets, lies, adultery, and betrayal, suddenly called upon to demonstrate a maturity and gumption beyond his years.
Told from Frank's perspective forty years after that fateful summer, Ordinary Grace is a brilliantly moving account of a boy standing at the door of his young manhood, trying to understand a world that seems to be falling apart around him. It is an unforgettable novel about discovering the terrible price of wisdom and the enduring grace of God.

WKK's signing tour features damn near every Minnesota book store. If you live in MN, you have virtually no excuse to missing Kent's tour. As always, dates are subject to change. Check Kent's site to updates.
March 27
Once Upon A Crime
Minneapolis, MN
7 PM
March 28
Barnes and Noble, Har Mar Mall
Roseville, MN
7 PM
March 30
Omaha Mystery Bookstore
Omaha, NE
5 PM
April 1
The Bookcase
Wayzata, MN
7 PM
April 2
 White Bear Lake Library (sponsored by Lake Country Books)
White Bear Lake, MN
6:30 PM
April 3
Totally Criminal Cocktail Hour
(with Valley Booksellers)
The Lowell Inn Event Center
Stillwater, MN
4:30 PM
April 3
SubText Bookstore
Saint Paul, MN
7:30 PM
April 4
Barnes & Noble, Galleria
Edina, MN
7 PM
April 5
Reading Frenzy
Elk River, MN
6 PM
Ticketed dinner event; contact the bookstore for details
April 6
Keynote Speaker
Saint Peter Book Festival
Gustavus Adolphus College
Saint Peter, MN
11 AM-3 PM
April 7
Aunt Agatha's Mystery Bookstore
Ann Arbor, MI
3 PM
April 8
Mystery One Bookshop
Milwaukee, WI
5 PM
April 8
Boswell Book Company
Milwaukee, WI
7 PM
April 9
The Book Stall
Winnetka, IL
7 PM
April 10
Centuries and Sleuths
Oak Park, IL
Noon
April 10
Anderson's Bookshop
Naperville, IL
7 PM
April 11
Page & Palette
Fairhope, AL
1 PM
April 12
Quail Ridge Books and Music
Raleigh, NC
7:30 PM
April 15
Garden District Book Shop
New Orleans, LA
5:30 PM
April 16
Murder By the Book
Houston, TX
6:30 PM
April 17
The Tattered Cover
Denver, CO
7:30 PM
April 18
Mysterious Galaxy
San Diego, CA
7 PM
April 20
Book Passage
Corte Madera, CA
7 PM
April 23
Common Good Books
Saint Paul, MN
7 PM
April 24
The Bookstore at Fitger's
Duluth, MN
Noon
April 24
Barnes & Noble, Miller Hill Mall
Duluth, MN
7 PM
April 25
Thyme Worn Treasures
Rice Lake, WI
7 PM
April 26
Chapter2Books
Hudson, WI
6 PM
April 27
Friends of the Roseville Library Annual Luncheon
North Oaks Country Club
North Oaks, MN
11 AM
April 28
Keynote Address
The Loft Mystery Conference
The Loft Literary Center/Open Book
Minneapolis, MN
10 AM
April 29
Excelsior Bay Books
(w/Café 318)
Excelsior, MN
7 PM
April 30
Prairie Lights
Iowa City, IA
7 PM
May 1
Vinton Public Library
Vinton, IA
Time TBA
May 2
Beaverdale Books
Des Moines, IA
6:30 PM
May 4
The Bookworm
Omaha, NE
1 PM
May 5
The Book Vault
Oskaloosa, IA
1 PM
May 7 
Barnes and Noble, Rainbow Village
Saint Cloud, MN
7 PM
May 11
Turtle Town Books & Gifts
Nisswa, MN
9:30 AM
May 11
Beagle Books
Park Rapids, MN
12:30 PM
May 11
Cherry Street Books
Alexandria, MN
3:30 PM
May 13
The Book Shelf
Winona, MN
5:30 PM (Public Signing), 6:30 PM (Ticketed Dinner/Talk)
May 14
Barnes and Noble, River Hills Mall
Mankato, MN
7 PM
May 16
Monticello Public Library
Monticello, MN
6:30 PM
May 18
The Village Bookstore
Grand Rapids, MN
12:30 PM
May 18
Howard Street Booksellers
Hibbing, MN
2:30 PM
May 20
Detroit Book & Author Luncheon
Livonia, MI
11 AM
May 23
South Saint Paul Public Library
South Saint Paul, MN
7 PM
June 27
Muir Public Library
Winnebago, MN
7 PM
With the Minnesota Crime Wave