Tags
Related Posts
Share This
William Kent Krueger: Dates for WINDIGO ISLAND Tour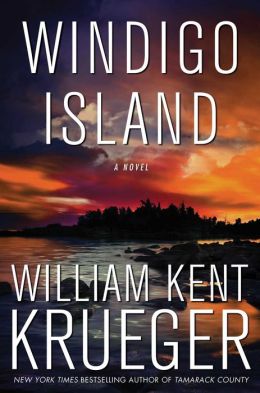 William Kent Kruger, one of the hardest working men in crime fiction is gearing up for the release of WINDIGO BAY, the latest in the award-winning Cork O'Connor series.
Cork O'Connor battles vicious villains, both mythical and modern, to rescue a young girl in this riveting mystery from New York Times bestselling, Edgar Award–winning author William Kent Krueger.
When the body of a teenage Ojibwe girl washes up on the shore of an island in Lake Superior, the residents of the nearby Bad Bluff reservation whisper that it was the work of a deadly mythical beast, the Windigo, or a vengeful spirit called Michi Peshu. Such stories have been told by the Ojibwe people for generations, but they don't explain how the girl and her friend, Mariah Arceneaux, disappeared a year ago. At the request of the Arceneaux family, private investigator Cork O'Connor takes on the case.
But on the Bad Bluff reservation, nobody's talking. Still, Cork puts enough information together to find a possible trail. He learns that the old port city of Duluth is a modern-day center for sex trafficking of vulnerable women, many of whom are young Native Americans. As the investigation deepens, so does the danger.
Yet Cork holds tight to his higher purpose—his vow to find Mariah, an innocent fifteen-year-old girl whose family is desperate to get her back. With only the barest hope of saving her from men whose darkness rivals that of the legendary Windigo, Cork prepares for an epic battle that will determine whether it will be fear, or love, that truly conquers all.
Kent starts pimping WI at Once Upon A Crime, on August 19th, and will be shaking hands and kissing babies until Early November. Take a look at the dates below to see if Kent will be appearing near you.
August 19
Once Upon a Crime
Minneapolis, MN
Windigo Island launch party
7 PM
August 20
Turtle Town Books and Gifts
Nisswa, MN
11 AM
August 20
Book World
Brainerd, MN
1 PM
August 20
Barnes and Noble – Har Mar Mall
Roseville, MN
7 PM
August 21-24
Killer Nashville
Guest of Honor
Nashville, TN
August 25
Mysterious Galaxy
San Diego, CA
7 PM
August 26
Book Carnival
Orange, CA
7 PM
August 27
Poisoned Pen
Scottsdale, AZ
7 PM
August 28
Barnes & Noble – Galleria
Edina, MN
7:00 PM
August 29
Lake Country Books
White Bear Lake, MN
9:30 AM
August 29
Village Book Store
Grand Rapids, MN
2:30 PM
August 29
Howard Street Booksellers
Hibbing, MN
4:30 PM
August 30
Beagle Books
Park Rapids, MN
10 AM
August 30
Book World
Detroit Lakes, MN
12 PM
August 30
Cherry Street Books
Alexandria, MN
3 PM
September 2
The Bookcase
Wayzata, MN
7 PM
September 3
Totally Criminal Cocktail Hour at the Lowell Inn
With Valley Bookseller
Stillwater, MN
4:30 PM
September 3
Common Good Books
Saint Paul, MN
7 PM
September 4
Tattered Cover – Colfax
Denver, CO
7 PM
September 5-7
Rocky Mountain Fiction Writers Conference
Keynote Speaker
Westminster, CO
September 8
Micawber's Books
Saint Paul, MN
7 PM
September 9
Book World
Albert Lea, MN
12 PM
September 9
Book World
Mason City, IA
2 PM
September 9
Clear Lake Public Library (Quasquicentennial Celebration)
Clear Lake, IA
September 10
Excelsior Bay Books
Excelsior, MN
7 PM
September 11
"Into the Evening Author Dinner"
North Folk Winery
Harris, MN
Presented by Scout & Morgan Books
$20 admission includes author event and a buffet dinner of wood-fired pizza, salad, and dessert. Wine & other beverages will be available separately. Tickets can be purchased from Scout & Morgan (763-689-2474).
6:30 PM
September 12
Mystery To Me
1863 Monroe Street
Madison, WI
7 PM
September 13
Centuries and Sleuths
Oak Park, IL
11 AM
September 13
Anderson's Bookshop
Naperville, IL
2 PM
September 14
Aunt Agatha's
Ann Arbor, MI
2 PM
September 16
Barnes and Noble – Mankato
Mankato, MN
7 PM
September 19
Chapter2Books
Hudson, WI
6 PM
September 20
The Bookstore at Fitger's
Duluth, MN
Noon
September 20
Barnes and Noble – Miller Hill Mall
Duluth, MN
3 PM
October 7
Dallas County One Book Read
Perry, IA
October 8
Decorah Public Library 
with Dragonfly Books
Decorah, IA
6:30 PM
October 9
Augustana College
Kresge Recital Hall, Humanities Building
Presented by Augustana Library Associates
Sioux Falls, SD
7:30 PM
General admission is $5 at the door; free admission for children and Augustana students.
October 11
Sinclair Lewis Writer's Conference
Sauke Center, MN
October 12
Apostle Island Books
Bayfield, MN
October 15-17
Salt Lake County One-County-One-Book Read
Salt Lake City, UT
October 21
Gaylord Public Library
Gaylord MN
7 PM
October 24-26
Magna Cum Murder
Indianapolis, IN
October 28
Arlington Heights All-City One Book Read
Arlington Heights, IL
October 30
Aitkin Public Library
Aitkin, MN
7 PM
November 13-16
Bouchercon
Long Beach, CA