Tags
Related Posts
Share This
William Petrocelli and Alex Segura
Crimespree Magazine,  in conjunction with Friday Reads Facebook page,  is giving away copies of William Petrocelli's THE CIRCLE OF THIRTEEN and Alex Segura's SILENT CITY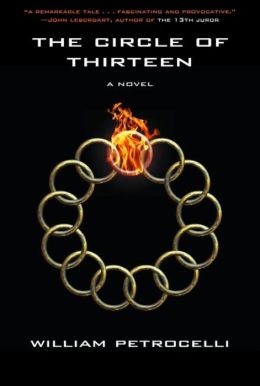 THE CIRCLE OF THIRTEEN by William Petrocelli
Set in a turbulent futuristic society, this provocative drama follows one woman's investigation into the dark forces unleashing chaos around the world—a thrilling ride that will mesmerize until the end.
In 2082, a catastrophic explosion rocks the dedication ceremony of the new United Nations in New York City. Security Director Julia Moro is on the job, chasing after the misogynistic leader of Patria, a long-disbanded international terrorist organization now being whispered about again on the streets. This dangerous, shadowy figure has been linked to several bombing attempts and vicious attacks on women, including the Women of Peace-an organization headed by thirteen bold women who have risked their lives to restore worldwide peace. As Julia's investigation unfolds, a deep secret from her past threatens to strip her of everything she cherishes and plunge her into unrecoverable darkness.
THE CIRCLE OF THIRTEEN's gripping narrative weaves back and forth in time, from an act of domestic violence that created the disturbed personality of the Patria mastermind, to the two weeks leading up to the bombing at the UN, to events half a century before the bombing that directly influence it. The strong, relatable women and the unbreakable bond between them provide an emotionally grounded window into the future's unforgettable history.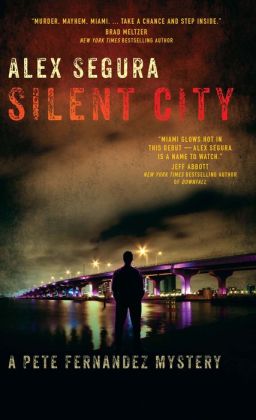 SILENT CITY by Alex Segura
Pete Fernandez is a mess. He's on the brink of being fired from his middle-management newspaper job. His fiancée has up and left him. Now, after the sudden death of his father, he's back in his hometown of Miami, slowly drinking himself into oblivion. But when a co-worker he barely knows asks Pete to locate a missing daughter, Pete finds himself dragged into a tale of murder, drugs, double-crosses and memories bursting from the black heart of the Miami underworld – and, shockingly, his father's past. Making it up as he goes and stumbling as often as he succeeds, Pete's surreptitious quest becomes the wake-up call he's never wanted but has always needed – but one with deadly consequences. Welcome to Silent City, a story of redemption, broken friendships, lost loves and one man's efforts to make peace with a long-buried past to save the lives of the few friends he has left.
To be entered in the drawing shoot an email over to Jon?@crimespreemag.com (remove the question mark) And put CONTEST in the subject line. Also please put your address in the body of the email.
We will pick the winners on January 3rd.
When we do the drawing, we will be sending an extra something for one lucky winner to be picked from the comments section of the Friday Reads face book page. So after you enter, go leave a comment!