Tags
Related Posts
Share This
X by Sue Grafton Reviewed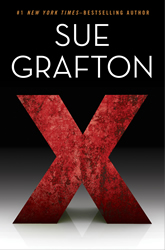 X
Sue Grafton
Putnam Pub
Aug 25th 2015
X by prolific novelist Sue Grafton has three stories rolled into one book. Starting with the letter A, the author, has certain elements that can be identified with all of her books. The main protagonist is private investigator Kinsey Millhone. The plot takes place in the 1980's, and the title of all of her books is an alphabetical letter. In this book Grafton broke slightly with tradition in that she still uses alphabetical titles, but did not indicate what it stood for.
Grafton was able to include many "X" traits in this plot considering she named one of her characters, Xanakis. Another interesting way she intertwined the letter in the plot was having codes as clues to a crime. These codes are based on both numbers and letters that have the commonality with "X" since it is both a Roman numeral and a letter. They were used as a jumping off point for this part of the story, with the encryption proving that Millhone was wrong about her late partner's morals and ethics. She is alerted that he was on the track of a serial killer. Millhone must find the killer before this sociopath causes more chaos that includes making her his next victim.
Another story line has Teddy Xanakis, wanting revenge on her divorced husband by attempting to steal a priceless painting from him. She hires Millhone to locate someone she put up for adoption many years ago that will help in the theft, but much to the private investigator's chagrin she was paid with marked bills. Now riled up Millhone will not stop until she finds Xanakis and gets answers.
Californians can relate to the third story line, as Millhone attempts to help her neighbors. This includes the landlord, Henry Pitts, who takes drastic action to lower his water use during the 1989 California drought. A quote from the book is exactly what many Californians have felt abut this recent drought, "Then the government came along and proposed moving water from up yonder to down here and then on. They called it the State Water Project. More like Steal Water, if you want my opinion."
What makes the story even more interesting is the time period in which it takes place. An era where private investigators had to solve cases the old fashioned way using their mind, legwork, and ingenuity. There were no cell phones, very few Internet servers, and many did not even have a computer.
X has so many twists and turns it could be a rival to Lombard Street in San Francisco. Grafton keeps readers on their toes since what appears to be a minor event turns out to be something of importance. This is a riveting mystery.
Elise Cooper