Tags
Related Posts
Share This
Young Avengers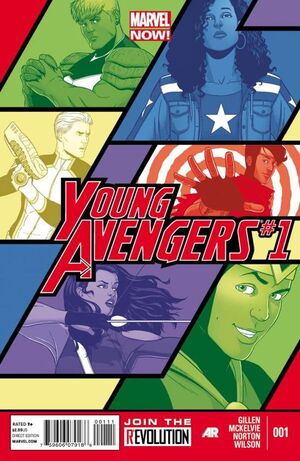 Young Avengers
I really wanted to title this review "Why the world needs this book." Because, dagnabit, the world does need this book. Ever since its creation after "Avengers Disassembled" it has become a highlight of youth driven comics, and a high point in super hero story-telling. After the team's disbanding at the finale of "Avengers: Children's Crusade" it would take a high concept of a talented writer to make it worth bringing the title back. Marvel superstar and Independent-comics darling Kieron Gillen and Jamie McKelvie were just the right guys to do that.
Fans of Gillen's sleeper-hit "Journey into Mystery" know his epic of Kid Loki. Picking up relatively shortly after that series ended "Young Avengers" shows him bringing together a new group of heroes. Or rather, attempting to. Having given up super-heroing, Hulkling and Wiccian are basically just bored. Hulkling is sneaking out, fighting evil, while Wiccian stays home and worries about abusing his powers. Ironically, the next thing he does is attempt to pull Hulkling's dead mother from the time stream. At first it looks like he succeeded, but this is comics. What he releases is something far scarier and messed up than they could have imagined. It sets off the entire concept for the series. Along the way some fan favorites join the fray; Kate Bishop Hawkeye, Marvel Boy and the new Miss America get wrangled in and become the new Young Avengers.
What Gillen has done here is created a Marvel Comic for the independent crowd. His story-telling is incredible. He plays with pages and panels and breaks rules all to brilliant effect. Teaming up with Jamie McKelvie (and Mike Norton) they create this fantastical world where the art elevates an already amazing story. The things they are able to do with a comic page prove there is still creativity in comics. "Young Avengers" is the future of comics, and the future is very, very bright.
Jo