Tags
Related Posts
Share This
Lou Berney: Dates for THE LONG AND FARAWAY GONE tour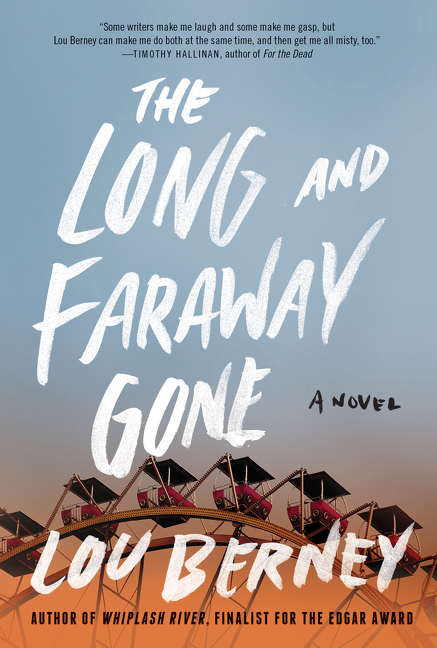 Lou Berney's third novel, THE LONG AND FARAWAY GONE, is set for release on Feb 10th. Lou will celebrate at the Full Circle Bookstore in his hometown of Oklahoma City and do a five state promotional tour. I have always enjoyed Lou's work, but TLAFG is a tighter, stronger novel than we have previously seen from him with a new protagonist that I seriously hope to see more of.
With the compelling narrative tension and psychological complexity of the works of Laura Lippman, Dennis Lehane, Kate Atkinson, and Michael Connelly, Edgar Award-nominee Lou Berney's The Long and Faraway Gone is a smart, fiercely compassionate crime story that explores the mysteries of memory and the impact of violence on survivors—and the lengths they will go to find the painful truth of the events that scarred their lives.
In the summer of 1986, two tragedies rocked Oklahoma City. Six movie-theater employees were killed in an armed robbery, while one inexplicably survived. Then, a teenage girl vanished from the annual State Fair. Neither crime was ever solved.
Twenty-five years later, the reverberations of those unsolved cases quietly echo through survivors' lives. A private investigator in Vegas, Wyatt's latest inquiry takes him back to a past he's tried to escape—and drags him deeper into the harrowing mystery of the movie house robbery that left six of his friends dead.
Like Wyatt, Julianna struggles with the past—with the day her beautiful older sister Genevieve disappeared. When Julianna discovers that one of the original suspects has resurfaced, she'll stop at nothing to find answers.
As fate brings these damaged souls together, their obsessive quests spark sexual currents neither can resist. But will their shared passion and obsession heal them, or push them closer to the edge? Even if they find the truth, will it help them understand what happened, that long and faraway gone summer? Will it set them free—or ultimately destroy them?
Will the lovely Mr. Lou be appearing near you? Take a gander at the dates below to find out.
Also, if you have not done so, head over to this week's giveaway for a chance to win a copy of THE LONG AND FARAWAY GONE.
February 10, 2015
Oklahoma City, OK
Full Circle Bookstore
7 p.m.
Launch event and signing for THE LONG AND FARAWAY GONE.
February 16, 2015
Austin, TX
Noir at the Bar at Opal Divine's
W/ Trey Barker, Bill Loehfelm and Jesse Sublett
7 p.m.
February 19, 2015
Tulsa, OK
BookSmart at This Land Press
7 p.m.
February 21, 2015
Norman, OK
Hastings Books, Norman
7 p.m.
February 25, 2015
Oklahoma City, OK
Barnes & Noble, 6100 N. May,
7 p.m.
March 3, 2015
Edmond, OK
Best of Books,
Time TBA.
March 11, 2015
Portland, OR
Noir at the Bar at Church
W/Blake Crouch, Hilary Davidson, Barry Graham, J David Osborne, S. G. Redling, Todd Robinson and Johnny Shaw
6 p.m.
March 12-14, 2015
Portland, OR
Left Coast Crime
Panels and signing.
March 13, 2015
Portland, OR
Powell's Bookstore
7 p.m.
Joint appearance with John Burley and Glen Erik Hamilton.
April 7, 2015
Mt. Dora, FL
Bland Public Library
7 p.m.
April 8, 2015
Leesburg, FL
Leesburg Public Library
1 p.m.
April 9, 2015
Palm Beach, FL
Palm Beach County Library
2 p.m.
April 9, 2015
Vero Beach, FL
Vero Beach Book Center
6 p.m.
April 10, 2015
Delray Beach, FL
Murder on the Beach
7 p.m.
April 17, 2015
Roanoke, Virginia
Roanoke Book and Author Dinner
W/ Megan Abbott, Beth Macy, and Garth Stein.
5:45
Author talk and reception,
May 30-June 3, 2015
Bloomington, IN
Indiana Writers Conference
Classes, panels, and reading.